Welcome to newgenerations.ie. We would like you to have the best possible experience with us. To find out more about our website please see the Terms and Conditions in detail below.
By using this website you agree to be bound by the Terms and Conditions set out below. If you do not agree to these Terms and Conditions you must immediately stop using this website.
The New Generations website is provided solely for your personal use.
You may not use this website for any commercial purpose. References in these Terms and Conditions to "we", "us" and "New Generations" are to New Generations registered address: 7 Tuansgate, The Square Tallaght, Dublin 24.
Online Shopping
We have taken reasonable care to ensure that all details, prices, photographic representations and descriptions of products appearing on the website are correct at the time when the relevant information was entered onto the system. We have made every effort to display as accurately as possible the appearances, colours, textures or finishes of our products that appear on the website. Differences to these will depend on your monitor and computing device, we are therefore unable to guarantee that the product images are an accurate representation of the actual merchandise. Please refer to our Returns Policy if you are unhappy with your purchase.
If the New Generations website is unavailable at any time or for any period, please contact us on contact@newgenerations.ie. From time to time, we may restrict access to the New Generations website due to improvements on the server.
Processing Your Order
All orders that you place on this website will be subject to acceptance in accordance with these Terms and Conditions. Non-acceptance of your order may be due to any one or more of the following non-exhaustive reasons:
The product you ordered is out of stock;
 Our inability to obtain authorisation for your payment;
We have identified a pricing or product description error;
There is a system or procurement failure; and failed customer validation checks.
When you place an order on our website, an acknowledgement email will be sent detailing the product you have ordered. This email is not an order confirmation or order acceptance from New Generations this is an acknowledgement email that you have ordered the product.
The completion of the contract between the customer and New Generations is complete when the four elements of offer, acceptance, consideration and intent to create legal relations have been fulfilled.
If you have placed a 'Click and Collect' order, you will receive a confirmation email or phone call from the New Generations store that your order is ready to collect.
Emailing Our Customers
The personal information that you provide will be used by New Generations in the processing of your transactions, for updating you on the status of your orders, and to offer you an exceptional customer experience through keeping you informed about new products, services, events, promotions and other news.
Click and Collect
New Generations Click & Collect is a convenient and complimentary service which enables you to place an order online and collect from our store, with no additional charge. Please note the following Terms & Conditions for our Click & Collect service.
Click & Collect: Payment and Order Holding Period
Payment
Payment authorisation is taken at the time you place your order, and full payment is taken when your order is in store for collection; this will be before the order is collected. Click & collect is currently unavailable for customers shopping in other foreign currencies.

Order Holding Period 
We will keep your order at the New Generations store within 14 days of purchasing any item(s).
For Click and Collect only, if there is no collection of the purchased item(s) after this 14 day period we will contact you to either process a refund via your original method of payment or have the item/s returned. If for any reason you are unable to collect your order when it is available to collect in store, please contact New Generations to make an alternative arrangement.
Please contact our New Generations store +353 (1) 4528300 or email contact@newgenerations.ie.
Order Collection
Only you or a nominated contact can collect your order. The person you nominate must be someone who lives at your address.
If you are collecting your order yourself please make sure you bring the following documentation:
1) A copy of your 'Ready for Collection' email or show this document on your phone or tablet.
2) The payment card that you used to purchase the items, or photographic ID (a driving license
or passport).
If someone collects on your behalf please make sure they bring the following documentation:
1) A copy of your 'Ready for Collection' email or show this document on phone or tablet.
2) A Photographic ID (a driving license or passport).
3) Proof of address (bill or bank statement).
Dispatch and Delivery
We currently offer a full standard and express national delivery service with An Post.
Standard Delivery 3-4 working days 
€8.40 (Up to 500g)
€12.00 (Up to 2kg)
Express Delivery 2-3 working days
€12.00 (Up to 500g)
€14.00 (Up to 2kg)
€16.00 (Up to 5kg)
An Post deliveries are open from Monday to Friday 10.30am-5.00pm. We do not deliver on Saturday or Sunday. During bank holiday periods, please allow extra time for delivery. A signature may be required upon receipt of your items to ensure safe delivery. A P.O. Box is an insufficient address, we require a signature.
New Generations cannot be held responsible for delays in customs clearance.
International orders are delivered by courier. Please email New Generations to arrange for dispatch.
New Generations cannot guarantee specific delivery dates for deliveries outside mainland Ireland.
Item(s) will not be processed until full payment is received and delivery charges.
Customs & Import Taxes
New Generations cannot be held responsible for any customs and import taxes that may apply.
New Generations cannot be held responsible for any delays that may be caused due to customs.
Cancelling your Order
If you wish to cancel any order you have placed and it has not been dispatched, please email contact@newgenerations.ie or contact our store on +353 (1) 4528300.
We will do our best to process cancelled orders immediately however it may not always be possible to stop an order from being dispatched. After dispatch our Returns Policy will apply. Please note that your Right to return goods does not apply to certain products as set out in our Returns Policy.
Refund Policy
We will exchange or refund any item you are not completely happy with if you return it to us within 14 days of the item being delivered to your nominated address. Please return items in their original condition, unused, in their original packaging, with garment tags still attached. Please ensure your returning items are securely sealed and packaged carefully.
We cannot exchange or refund any personal products etc. Please see exclusions from Exchanges and Returns Policy for more information. Where promotional discounts are applied to orders, in the event of a return, you will not be refunded the discounted proportion.
How to Exchange or Refund
You can return items by post or to the New Generations store free of charge within 14 days of receipt of your order. Please note items must be returned within this time-frame and be in a resaleable condition. This means returning the item(s) to us in its original condition, unused, in its
original packaging with garment tags still attached.
Once we have received the item(s) and have inspected that they are in resaleable condition, only then a refund will be issued to the original method of payment. This will appear on your account within five to ten days depending on your card issuer.
If you have any queries about returning items please contact New Generations store on +353 (1) 4528300 or email contact@newgenerations.ie.
Postal Returns
To return items by post, please email contact@newgenerations.ie to notify us of your item(s) return. It is advisable for you to obtain proof of postage as New Generations will not be held accountable for item(s) damaged or lost in transit.
New Generations recommends our customers to return their product using an insured service and obtaining proof of posting. You will be responsible for paying for your own shipping costs for returning an item(s). Items must be returned within the 14 day return policy timeframe and be in a resaleable condition.
In-Store Returns
You can also return products to the New Generations store. Please ensure that you bring the original confirmation email and dispatch invoice with you as proof of purchase.
You must ensure that you return the original undamaged packaging along with the item(s) you are unhappy with. This means returning the item(s) to us in its original condition, unused, in its original packaging with garment tags still attached. The returned goods will be inspected before deciding whether to provide a refund.
Product Information and Availability
The material displayed is provided by way of information only, except in relation to the description of goods available to purchase online.
The information and materials contained in this website are provided without warranties of any kind, either express or implied, and liability is excluded to the fullest extent permissible under Irish Law.
We feature products that have been carefully selected for sale on the New Generations website. Once an item is sold out it will be taken off the website at the earliest opportunity and may not be available again. Prices of products may change from time to time. Goods are subject to availability. As there is a delay between the time when your order is placed, and the time when the order is accepted, the stock position relating to particular items may change. If an item you have ordered becomes out of stock before we accept the order we shall notify you as soon as possible and you will not be charged for the out of stock items.
Pricing Policy
All prices are inclusive of VAT (where applicable) at the appropriate rate and correct at the time of entering the information on to the system. Prices may change and offers may be withdrawn at any time.
Foreign currency prices are calculated based on a market exchange rate and are subject to change as this rate moves.
Although we try to ensure all our prices displayed on our website are accurate, errors may sometimes occur. If we discover an error in the price of an item you have ordered we will contact you as soon as possible. You will have the option to reconfirm your order at the correct price or cancel it. If we are unable to contact you, we will treat your order in respect of the incorrectly priced item as cancelled.
Copyright Policy
The information, content, graphics, text, sound, images, buttons, trademarks, service marks, trade names and logos (the "Materials") contained in this website are protected by copyright, trade mark, database right, and other intellectual property laws under national laws and international treaties.
Copyright and other intellectual property rights in any communications, ideas, or other materials submitted or offered to us by you through, on or by this website, unless specifically requested by us, shall become our property. You agree that submissions by you to this website must not risk infringing any right of any third party and in addition, you agree that no submissions by you to this website will be or contain libellous or otherwise unlawful, abusive or obscene material or constitute
an invasion of privacy. As such, you are and shall remain solely responsible for the content of any submissions you make to the website.
You acknowledge and agree that the material and content contained within this website is made available for your personal non-commercial use only and that you may only download such material and content for the purpose of using this website. Accordingly, we suggest that you do not use the New Generations website to (and agree not to assist or facilitate any third party to) copy, reproduce, transmit, publish, display, distribute, commercially exploit or create derivative works of such material and content.
Nothing contained in these Terms and Conditions shall be construed as conferring any licence or right to use any trade mark, design right or copyright of the New Generations website.
Content and Activity Prohibited
Please choose carefully the information you post on the New Generations website and that you provide to other users. You must not misuse the New Generations website. You will not: send or otherwise post unauthorised commercial communications to users (such as spam); upload viruses, trojans, worms, logic bombs or other malicious code; corrupt data; cause annoyance to other users; post content that is hateful, threatening, pornographic, or that contains nudity or graphic or gratuitous violence; use the New Generations website to do anything unlawful, misleading, malicious or discriminatory; facilitate or encourage any violation of these Terms and Conditions.
We reserve the right, in our sole discretion, to reject, edit or refuse to post any content and to remove any content from the New Generations website, whether or not the content is expressly prohibited by these Terms and Conditions, or to restrict, suspend, or terminate your access to all or any part of the Services at any time, for any or no reason, with or without prior notice, and without liability.
New Generations community areas are subject to the following Community Area Rules:
New Generations advises you not to reveal any personal information about yourself or anyone else that would allow you to be identified including but not limited to: telephone number, home address, business address, delivery address or email address.
By submitting any material to us, you automatically grant New Generations a royalty-free, perpetual exclusive right and license to use, modify, edit, adapt, publish, re-use, translate, distribute, perform and display such material in whole or part worldwide and/or to incorporate it in other works in any form, media, or technology now known or later developed.
You acknowledge that we are not obliged to publish any material submitted by you.
By submitting any material to us, you agree to use the New Generations website and Community areas in accordance with these Community Area Rules and website Terms and Conditions.
If you fail to abide by these Community Area Rules you may be sent an email which informs you why your contribution has been refused or edited. This email will also include a warning that continuing to break the rules may result in action being taken against your account or accounts. Action may include any content posted by you being checked before allowed to go on the site or a temporary or permanent suspension of your ability to participate in any or the entire New Generations website.
New Generations reserves the right to edit or delete any contribution, or take action against any user account, at any time, for any reason.
If you do not want to grant New Generations the permission set out above on these terms, please do not submit or share your contribution on the New Generations website community area.
Comments and Complaints Procedure
Please contact us if you have any comments or complaints. For online queries contact New Generations on +353 (1) 4528300 or contact@newgenerations.ie and for store queries please contact our store.
We will always endeavour to resolve any dispute as swiftly as possible.
Jurisdiction
The New Generations website is controlled and operated in Ireland. Any terms and conditions concerning the usage of this website will be governed by the Laws of Ireland and any dispute concerning use of this website will be determined by the Irish Courts.
Privacy Policy
New Generations values and respects your privacy and this policy explains how we may collect and use your personal data and how we look after it. We treat personal information as private and confidential in accordance with all relevant data protection or privacy legislation. Information that
you (or the person receiving the service) provide, as part of a booking, query, reserving, deposits etc. may include personal information that has enhanced rights at law and, as applicable, we will look after this information in accordance with the relevant obligations set out within these data protection laws.
We require all third party interactions to treat your personal information as securely, carefully and confidentially as we do. We may retain your personal information, preferences, and details of your transactions in order to provide the best customer experience. We will retain the same in accordance with relevant data protection or privacy legislation. If, at any point, you no longer wish us to hold your personal information or you do not wish to receive information from us then you can request that we delete the same. Please see our Privacy and Cookie Policies for more information.
Privacy and Cookie Policy
We want you to feel confident about the privacy and security of your personal details when you visit the newgenerations.ie website. We respect your right to privacy. We treat all of the personal information you provide to us as confidential. By using the New Generations website or by entering queries from any services provided by New Generations, you agree to our use of your data as set out below. Saved payment card details are transmitted by New Generations in an encrypted form to provide extra security for your online transactions. They are only shared with our payment partner and not with any other third parties and are only used to process your order, using our payment.
How We Collect and Use Personal Information
We collect and use information about people in different ways. The information we collect and use depends on the type of relationship we have with you as a person. This information is processed either with your consent, or on the basis that it is necessary to conclude a contract you've entered into with us (for example, to deliver a product to you if you've ordered online or it is a large item), or on the basis that it is in our legitimate interests to process this information (for example, it is in our legitimate interests to operate CCTV and to conduct postal marketing). We are also required to keep certain information by law (e.g. Accident reports).
Customers
We collect and use information about customers for a number of high level purposes. We collect this information from you when you interact with us either online through our websites or our apps, by phone, or in-store.
Customer Enquiries
If you make an enquiry about a product or service in one of our stores we need to have certain information about you to follow up on your enquiry and resolve it including, customer name, customer address, contact phone number, email address, details of the customer query.
Customer Orders and Transactions
If you make a purchase with us, either online, or in person we need to process information about you including, customer name, customer address, contact phone number, email address, details of the items purchased, details of payment method, reference and package tracking reference. In particular, if we are delivering goods to you, we need to have an address to send them to and we may need further information to schedule delivery for larger items. (Payment details are processed at the point of sale but no identified details of payment cards are stored by New Generations.)
Customer Service
If you contact the New Generations store, or leave items to be steamed with our team, we might process the following information about you including customer name, customer address, contact phone number, email address; details of customer query or repair to ensure we manage your query as efficiently as possible.
Customer Competitions
We process customer information including customer name, customer address and email address to run customer competitions. Competitions will be subject to the specific terms and conditions of each competition but these terms will include a right to publish the winner's name and region.
Advertising and Promotions
Subject to your communications preferences, we will contact you from time to time with promotions and advertising for products, services or events. You can opt-out of receiving communications or change your preferences by unsubscribing and 'unfollow' or 'unlike' on our social media channels. Opting out means you may miss out on promotions or discounts that will be of interest to you. We track the open rates and responsiveness rates on our promotion campaigns. When you visit our websites we write a variety of cookies relating to the functions of the site and also to track how you interact with the site so we can identify opportunities to improve its usefulness to you. For more information on Cookies we use, see the 'Privacy and Cookies Policy' section.
Health and Safety and Security
Information about customers will be processed when necessary for the purposes of complying with Health and Safety legislation or for the purposes of protecting the safety and security of our store, our staff and other customers and store visitors. This will include, but is not limited to, payment card verification processes and the use of CCTV, customer name, customer contact information (email, postal address or telephone), details of incidents in store, point of sale transaction information and other information as needed for the purpose of Health and Safety and security functions or investigations.
Live Chat on our Social Media Channels
To enhance our customer services you have the option to connect with a Team Member through Live Chat or Messaging on our social media channels or via email. This is provided by our Facebook Page and Instagram. Depending on the query for example 'booking an appointment' or 'reserving a
communion dress on deposit', information required will include:
– Customer name
– Customer email
– Details of your query as you input in the text field.
When submitting this information you are giving consent for a Team Member to use this detail to contact you to follow up on your query.
Visiting our Store
When you visit our store (whether online or in person) we process certain information about you whether or not you make a purchase or have logged in as a customer on our online store. We offer an extensive range of School Wear, Communion, Confirmation, Boys Suits, Christening and Baby Wear to buy online. We use the information that you provide to Health and Safety and Security – Physical Store, Statistical Reporting – Online Store and Smartphone Apps and Online Security.
Health and Safety and Security – Physical Store
When you visit our physical store we will process information about you via our CCTV systems which monitor all activity in our stores for security and safety purposes. If you are unfortunate enough to have an accident in one of our stores we will keep details of the accident report as required by law.
Statistical Reporting – Online Store and Smartphone Apps
We use a variety of technologies including cookies to help us.
Online Security
Our site operates under HTTPS by default so all interactions between your browser and our site is secure. We process log files, cookies, and other information about who is accessing our site for security purposes and to assist in the detection and investigation of any security breaches on our site.
Linking to Website
You must not establish a link to this website to suggest any form of association, approval or endorsement on our part where none exists or establish a link from any website that is not owned by you.
Our website must not be framed on any other site, and you may not create a link to any part of this website other than the home page.
General
We may change these Terms and Conditions at any time. If any of these Terms and Conditions is invalid or unenforceable, the remainder of these Terms and Conditions shall continue to have full force and effect.
We will not be responsible to you for any delay or failure to comply with our obligations under these Terms and Conditions if the delay or failure arises from any cause beyond our reasonable control.
If you breach these Terms and Conditions and we take no action we will still be entitled to use our rights and remedies in other situations where you are in breach.
New Generations reserves the right to amend, remove or vary the Services and/or any page of this Website at any time and without notice.
Agreement
These Terms and Conditions constitute the entire agreement of the parties and supersede any and all preceding and contemporaneous agreements between you and New Generations.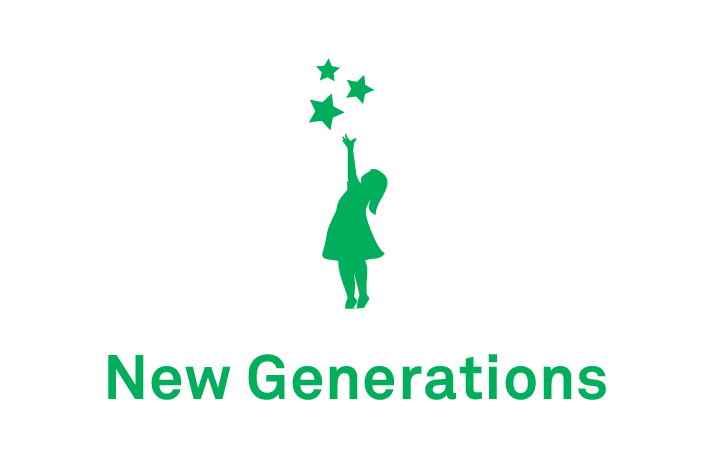 7 Tuansgate, Tallaght, Dublin 24
contact@newgenerations.ie
(01) 452 8300 | 085 7492 688