Exchanges & Returns Policy
You can return or exchange your order within 14 days of receipt of your ordered goods.
All returned item(s) must be unworn and in their original packaging and original labels still attached. Item(s) should be packed and sent back in their original box. Refunds will be given on the price of purchased goods only. Postage costs on returned items will not be included in the refund. The customer must bear all costs of returning any goods to New Generations and provide proof of delivery.
Sale items are exempt from our exchanges and returns policy.
On receipt of the goods, the item(s) must be in resaleable condition. If the goods have been worn, soiled or stained in any way, the goods will not be refunded. We cannot refund or exchange incorrect orders or unwanted products after 14 days of receipt.
If you have an online order and there is an item you would like to exchange, you will simply have to place a new order online and return the item you don't want back to the store. Exchanges are processed in-store only. Refunds will be credited back to the original method of payment used.
Please note that we are unable to accept items that have been previously exchanged or multiple returns.
How to Return Your Order
1) Email New Generations (contact@newgenerations.ie) to notify us of your return. We will send you a return order form.

2) Pack the product in a secure packaging with the return order form inside. Ensure that your package is securely sealed in original packaging, unworn, undamaged and in resaleable condition.
3) Send by post or courier to the following return address:
New Generations
7 Tuansgate, Belgard Square East
The Square Shopping Centre
Tallaght, Dublin 24
Eircode: D24 F753
New Generations recommends returning the goods using a trackable postal service that insures the value of the goods. You will be responsible for paying for your own shipping costs for returning an item(s). New Generations is not accountable for items damaged or lost in transit. The goods are your responsibility until they reach our store and the shop does not assume any liability for the return or replacement of the goods sent by our customers.
We will be happy to process refunds on receipt of the goods as long as the above return criteria have been met.
Alternatively
We welcome our customers to return orders to the New Generations store with your order confirmation email and dispatch form. Items must be returned within the 14 day return policy and unworn, unsoiled and be in a saleable condition.
Exclusions from Exchanges & Returns Policy
Certain product categories by their nature are exempt from the 14 day return policy. The following items are non-returnable and non-refundable:
1) Personalised or customised product in any aspect such as specially made or ordered with your choice of name, fabric or message.
2) Products that are specially made, or ordered/ pre-ordered in a colour or size of your choice and is therefore not held by us as a stock item will be deemed a custom order.
3) We cannot accept returns on unsealed, worn, washed, steamed product or any products that are inspected as unsaleable. This does not affect your statutory rights.
4) For the purposes of hygiene, we cannot accept the return of the following items:
– Personal products such as underwear, socks and tights, baby bibs and gloves etc.
– Hair Accessories, Tiaras, Hair Bands, Hair Clips.
– Worn shoes.
To avoid disappointment, please check with us whether an item is non-returnable and non- refundable before ordering.
Shoe Returns
Items should be returned in their original packaging to ensure they are adequately protected in transit. Shoe boxes should also be protected as they are considered part of the product and your return may not be accepted if the box is damaged.
All shoes must be tried on a carpeted surface until you are certain that you are keeping them. Shoes should be returned unmarked and in their original, undamaged shoe box as this is considered part of the product. Shoes returned without a box, in a damaged box or with scratched soles may not be accepted and may be sent back to the customer.
Normal exchange and returns policy apply. Please see 'Exchanges & Returns Policy' for more information.
Click and Collect
Collecting your order from New Generations store is free. Item(s) will not be processed until full payment is received.
Cancelling your Order
Any cancellation of your order must be made within 24 hours of your order being placed. Once the order is shipped, it cannot be cancelled. Normal returns policy will apply if the goods are unwanted.
Please contact New Generations to cancel your order. We will do our best to assist you with any amendments.
I Do Not Need the Order
If you do not wish to keep the goods, you can return items within 14 days of receipt for an exchange or refund. Please note your return must be delivered to us within this time as any returns received outside of 14 days will not be accepted.
Unwanted goods must be returned in a fully resaleable condition and any tags must be intact. Extra care must be taken when trying on clothing, please ensure you are not wearing any make up, fragrance or deodorant that may leave a scent or mark. We reserve the right to refuse a refund if goods are not in a resaleable condition or damaged. We cannot refund the postage cost incurred in returning unwanted goods.
The postage cost of returning an unwanted item is the customers' responsibility. Refunds will be given on the price of purchased goods only. All delivery and postage costs on returned items will not be included in the refund. Proof of posting will not be accepted as proof of delivery.
Faulty Products
If you have received a product that is faulty or defective, we will exchange the product for an identical replacement provided that you have notified us by email of the fault within 3 days of purchase and the product is returned to us within 14 days in its original packaging.
If item(s) are inspected to have deliberately and intentionally been damaged, we cannot refund or exchange these orders. This also applies to falsified faulty products.
If the fault was our mistake, you need to notify us within 3 days of receipt and we will provide a pre- paid label to return the product to us. Then we will send a replacement on receipt of the return item with no shipping cost to you.
We cannot be responsible for items lost or damaged during the shipment, if an item is returned to us damaged by the carrier; we will contact the customer as it is the customers' responsibility to process a claim through the carrier and not New Generations.
New Generations is not liable for damaged goods or lost goods during delivery or transit.
Payment
The New Generations website accepts Debit card, Credit card and Paypal. Please see 'Exchanges and Returns Policy' for more information. Item(s) will be refunded to the original card payment.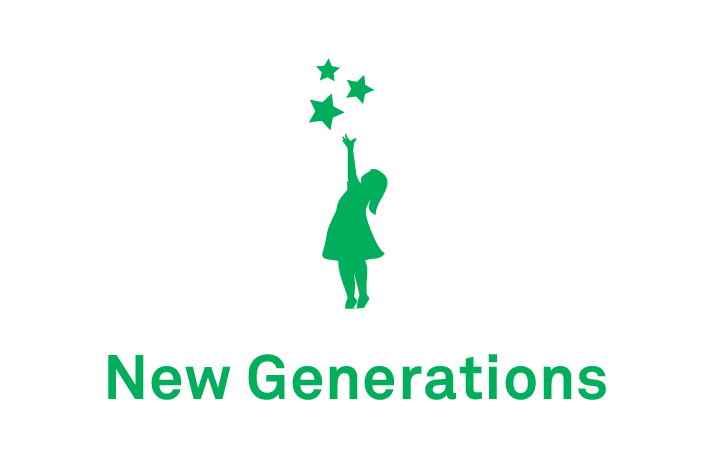 7 Tuansgate, Tallaght, Dublin 24
contact@newgenerations.ie
(01) 452 8300 | 085 7492 688
7 Tuansgate, Tallaght, Dublin 24
contact@newgenerations.ie
(01) 452 8300 | 085 7492 688